Tasmania Motorhome hire with locations from our different selfdrive rental suppliers such as Hobart, Launceston and Davenport. Just easily compare all our options available in Tasmania for each motorhome size and layout.
Tasmania is an island separated from mainland Australia by the 240 km stretch of Bass Strait with spectacular scenery, a rich heritage and superb food and wine. It's an island made for touring - and the best way to explore is in a comfortable, spacious, self-contained motorhome or campervan from Tasmania Motorhomes. Getting to Tasmania can be by ferry or plane.
Explore the Apple Island as it is also known in a quality Motorhome or Campervan hire rental. We have an itinerary from hobart to Hobart though you can vary from Launceston or Davenport - check here for the Island of Tasmania's distances. Don't be constrained by a time and guide let yourself be the guide and explore explore explore.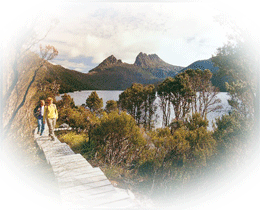 Why be tied down to a daily schedule? In your own travelling home, you can plan your journey as you go. Our motorhomes and campervans are top quality, late model vehicles, superbly maintained and fully equipped with verything you need. Experience the most relaxing, versatile and enjoyable way to discover Tasmania.
Tasmania is a land abundant – a island of wild pristine landscapes; friendly, folks; a pleasant, moderatley seasonal temperate climate; world stand wines and rich cuisine and exquisite produce. With is heritage and colonial history Tasmania boosts a friendly and relaxed island lifestyle for your to experince in your travels around the island. According to travellers in search of excellence, Tasmania has one of the world's 10 best beaches (Wineglass Bay, ), one of the world's best little town (Strahan) one of the world's Sustainable Tourism Initiative. There are so many things to do in Tasmania from fishing, farms, wineries, parks, activities and adventures.
The warmer months are a good choice of time to visit Hobart and tour around Tasmania especially during late summer and autumn. Hobart is choice comencing point for for vacation around the island state of Tasmania. Hire a rental luxury spacious campervan or motorhome with a toilet, shower, airconditioner from Hobart and consider 10 to 14 days to be able to experience the many things to do Tasmania or try our cultural hertiage with our events such as arts, museums and sport in Tasmania and places to go in Tasmania.
Scenic Drives
Scenic drives Tasmania's network of highways allows you to loop around the island using a combination of routes. The road to the west coast (A10) winds from Hobart to Strahan through the Tasmanian Wilderness World Heritage Area (WHA). You can follow the Bass Highway (A2) along the north-west coast to the far north-west.
On the east coast, the Tasman Highway (A3) takes you alongside beaches and tiny seaside towns to Coles Bay and Freycient National Park and on to St Helens.
On the the Lake Highway (A5) you cross the "roof" of Tasmania - the Central Plateau; while the Heritage Highway (Highway1) links the historic Georgian midland villages.
On the Arthur Highway (A9) you travel the Tasman Peninsula to Port Arthur and the Port Arthur Historic Site, while the Huon Highway (A6) takes you to waterways and wilderness south of Hobart. Acknowledgements: Scenic Drives is an extract from http://www.discovertasmania.com