Mt Field National Park in Tasmania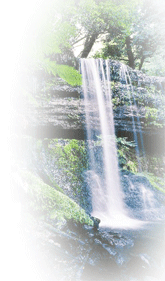 Mt Field National Park - The Mt. Field National Park is approximately an hour's drive past New Norfolk out of Hobart some 80+ klm and 2 hours being a scenic drive minutes drive northwest of Hobart on the Rivers Run route or B61. Close to the Mt Field National Park entrance are three main waterfalls being the Junee Falls, Marriotts Falls, and the most popular and well-known Russell Falls is one of Tasmania's most loved falls (insert).
The park itself is one of the prime habitats for the famous Tasmanian Devil.
Some of the eucalypt trees in the park are 90 metres high, 20 metres around the base and over 400 years old, and . Mount Mawson, west of Lake Dobson, may be known as one of Tasmania's best skifield after Ben Lomond. It is covered with snow for approximately 4 months of each year, and chains will be needed at times.
The park essentially has two visitor sections. The first, near the park entrance, includes picnic facilities and the famous Russell Falls. Enchanting walkng trails through enormous fern forests and some of the tallest trees in the world are available in this area. The second visitor section is centred at Lake Dobson and includes the longer day walks and skiing areas.
For the latest snow reports during the ski season, see . Beautiful mountain scenery and alpine plant sflora species are a feature of the higher parts of the park. Mt Field National Park -http://www.parks.tas.gov.au.
The Visitor Information Centre near the car park and adjacent to the path to Russell Falls
Lyrebird Nature Trail is a walk from the car park at Mt Field National Park. Lyrebird Nature Trail is located some 7klm up the Lake Dobson road and off to the right passing kangaroo ferns, uniquel heath species, yellow gums, ferns and sword grass.
Maydena is 13 km past The Mt. Field National Park and at the beginning of the Gordon River Road a toll road. The highlight is a huge mountain ash 'The Big Tree' which, at a height of 98.2 m, is the largest eucalypt in Australia located in the Styx Valley.
For information on Mt Field National Park treks, hikes, trails and walks, or to register for overnight hikes and/or to talk to the ranger Tel 03 6288 1149). Or drop in to the Mount Field Ranger Station at the entrance to the park during opening times.
Mt Field National Park Camp Ground - Mt Field 66 Lake Dobson Road Tel:+61 (0) 3 6288 1149 (We strongly suugest you phone well in advance). No bookings are taken. Facilities include amenities block, toilets, showers, hot water and basins. Coin operated washing machine & dryer, rotary clothes line. There is one coach site. Shelter with two free electric bbq's and sink with hot water. Caravan access is available.
Also available 3 cabins with 6 bunks per cabin, with vinyl covered mattresses, cold water, wood heater and firewood. No electricity/gas. Communal toilet block (no showers). It is recommended that advance bookings are made. - Mt Field 66 Lake Dobson Road Tel:03 6288 1149 (We strongly suugest you phone well in advance).
Mount Field has one youth hostel. Mt. Field National Park Youth Hostel on Main Road, Mount Field National Park Tel: +61 (0)6288 1369 and thier email is yhatas@yhatas.org.au A rather peaceful area, the YHA hostel has a cosy atmosphere and is just a few hundred metres away from the national park entrance. Some meals and EFTPOS available at hotel opposite the YHA.
National Park Hotel offes basic ground-floor pub accommodation including breakfasts, (the National Park Youth Hostel is opposite) The pub has an EFTPOS facility, but the nearest fuel is 7km further on at Westaway.
Bed and Breakfasts in Tasmania - at Swansea Find peace, warmth and welcome in this grand Georgian Home. Six Queen sized rooms with ensuite. Open Fire, Licensed, meals by arrangement, guest lounge, 60 metres from Schouten Beach.Located 1 Waterloo Rd Swansea Tel +61 (0) 6257 8564.