Hobart the Capital of Tasmania
Hobart, the State's capital in southern Tasmania, has a large international airport a short drive from the city centre. It is gateway to the historic Port Arthur, and the southern wilderness areas.
The capital, Hobart, is in the south of the island at latitude 42.5 degrees south. Maximum temperatures in winter average 12 degrees C, and in summer average 21.5 degrees C. The mild temperate climate make the summer months ideal for outdoor activity. Tasmania operates under Australian Eastern Standard time. Hobart is on the Derwent river, has one of the world's finest deep water harbours and the majestic Mt Wellington in the background. The population of the Hobart metropolitan area is 194,000.
Hobart Airport, located just 17 kilometres from Australia's southern most capital city, provides an international gateway to the island State's famous heritage. www.hobartairpt.com.au/
Tasmania holds a lot of heritage and culture with a number of spectacular buildings to see in Hobart. Macquarie Street hosts some splendid Georgian buildings, and the Theatre Royal on Campell Street is the oldest theatre in Australia. Runnymede in New Town also hosts some colonial buildings ranging from the 1830's, open everyday 10.00am - 4.20pm. It is also worth taking a look at Parliament House and nearby St. Davids Park, as well as the Royal Tasmanian Botanic Gardens next to Tasman Bridge.
You can also visit Cascade Brewery, Australia's oldest brewery, and join the tour at 9.30am or 1.00pm. Hobart offers lively entertainment and often bands in the evening, with the main areas to go out being Elizabeth Street, Salamanca Place and Sandy Bay. There are a number of Hobart tours and things to do and places to visit you can join in Tasmania both by bus or by ferry depending on what you want to see. There are a range of museums in Hobart including the Allport Library and Museum of Fine Arts, the State Library hosting a number of rare books, the Lady Franklin Gallery, Moorilla Museum of Antiques, the Maritime Museum of Tasmania giving the history of Hobart's Shipping industry and the Tasmanian Transport Museum.
Events in hobart vary from The Hobart Christmas Pageant will be held on Saturday 17 November, 2007 commencing at 10.30am and concluding at approximately 12 noon. The Hobart Christmas Pageant is a popular tradition that delights adults and children alike year after year. Not only do thousands of spectators take pleasure in viewing the procession, but the entrants themselves enjoy being part of the largest event of it's kind in Tasmania.
Then we have the Hobart Summer Festival. Another very successful Hobart Summer Festival was held over eleven days in 2006/2007, commencing with the iconic food and beverage event - The Taste - on 28 December. During the Festival, Sullivans Cove precinct came alive, showcasing the very best street theatre, live music and performance for both the young and young at heart, and of course some of Tasmania's finest food, wines, beers and other beverages. For seven perfect sunny days, The Taste shone as the only location to be on Hobart's waterfront.
For the flora lovers we have The City of Hobart Floral Shows are a series of Spring and Autumn shows presented by various local horticultural societies in conjunction with the Hobart City Council. The program of displays include the Dahlia & Gladiolus, Chrysanthemum, Daffodil & Camellia, Orchid, Rhododendron, and the Rose & Iris shows. The Australian Plants Society conducts a show in the City Hall every two years. To compliment the magnificent floral displays the various horticultural societies conduct raffles, stalls selling plants and cut flowers and provide information on plant growing. City of Hobart Floral Shows Dates - http://www.hobartcity.com.au
Australian Golf Heritage Festival — May 24-29th, 2007 in Tasmania, home of Australia's oldest golf course at Highland Lakes Road Bothwell is hosting a mix of history tours, social and championship golf, & fine wining and dining, in aid of local golf charities.
Also why not look at the ROYAL HOBART REGATTA usually in February at http://www.royalhobartregatta.com/ and see where the entire Derwent River is given over to the Regatta for the three days.
For those missing their cutural bust remember the Theatre Royal at 29 Campbell Street, Hobart. The Box Office: 03 6233 2299 http://www.theatreroyal.com.au/.
For a day out visit the Hobart Zoo and catch up on the now extinct Tasmanian Tiger - http://www.parks.tas.gov.au/
Farther down to the southof Hobart are the ever reaching forests around Geeveston. For a unique understanding of this timeless landscape, why not stroll through the canopy of the mature treed forest on the 'Tahune Forest AirWalk', some 50 metres above the confluence of the Huon and Picton Rivers. On your way back to Hobart consider to visit the Huon Valley Mushrooms to see white, honey brown, oyster and shiitake mushroom production.
Salamanca Place Hobart in Tasmania
Salamanca Market is held in Hobart every Saturday between 8.30am and 3pm – rain, hail or shine. Being Hobart's popular outdoor market you can join the locals for a shopping experience with a difference. Salamanca Market is a special place where you actually meet the people who create, make or grow what they sell. You can shop here for locally grown organic fruit and vegetables, freshly cut flowers, fine Tasmanian arts and crafts and an array of odds and ends.
Once the haunt of workmen, sailers and even whalers the old Georgian buildings and warehouses that line Salamanca Place with lots of artie shops and trendy restaurants in a row of meticulously perfectly refurbished dated sandstone warehouses are today Hobart's cultural hub; home to galleries, theatres, cafes, craft shops and restaurants.
Salamanca Market operates every Saturday from 0830 until 1500. Try getting there early to park that camper or motorhome and really have a few hours to enjoy yourself. Salamanca Market is rather close to historic St David's Park which is on the fringe of Hobart's central business district, where many city shops are open Saturday.
From the market take a short climb up the Kelly's Steps to reach the Georgian Cottages and the village atmosphere of Battery Point. Hobart's picturesque and famous waterfront is also nearby across the Salamanca grassed lawns to Constitution Dock, where hard-working fishing boats are berthed close to cruising yachts and a square-rigger or two. Visit at New Year and see the finish of the famous Sydney to Hobart Yacht Race. The Rolex Sydney Hobart is a 628nm yacht race which begins in Sydney Harbour and finishes in Hobart. Each December on Boxing Day you can see the world's greatest yachts charging through Sydney Heads as they take part in the Rolex Sydney Hobart Yacht Race. Days later, in Hobart, the excitement builds as news of who will be the first boat to arrive comes through to Constitution Dock in Hobart.www.salamanca.com.au
Port Arthur in Tasmania
Port Arthur has become one of Tasmania's most prominent tourist destinations. The drive from Hobart to Port Arthur takes approximately 1.5 hours. Port Arthur is 95km (60 miles) south-east of Hobart on the Tasman Peninsula. From Hobart, take the Tasman Highway to Sorell and then the Arthur Highway. Though, it may take longer if you take time to enjoy the scenery and stop to view the attractions along the way.
The cruise from Hobart to Port Arthur aboard the MV Marana takes approximately 2.5 hours.
Port Arthur is one of Australia's great tourism destinations. Every building, every feature of Port Arthur Historic Site has a story to tell. The Port Arthur Historic Site encompasses a total of more than 100 hectares. About 40 hectares of the Site is accessible to the public, including more than 30 buildings, ruins and restored period houses. Created with convict labour, the impressive architecture, delightful gardens and chilling prison facilities survive today for you to explore. Today visitors walk its paths and view stabilised ruins and carefully restored buildings, experiencing how once it must have been when Port Arthur was a hell on earth as one of England's most notorious convict settlements. www.portarthur.org.au/ and for the Port Arthur Caravan and Cabin Park at Port Arthur.
There are guided tours of the area, which are a good way to cover the site in an orderly fashion. As well, there is the Historic Ghost Tour which is held after nightfall when the dark covers the land and the ghosts of the past may just be about.
Port Arthur is located on the Tasman Peninsula and is the best preserved convict penal colony in Australia and the most visited place in Tasmania. More than 20 000 people a year wander through the old sandstone remains. Isolated by a narrow strip of land called Eaglehawk neck and a magnificently rugged coastline, it made an ideal location for a penal colony. Port Arthur was home to 12 000 convicts, both men and boys between 1830 and 1877. Tales of infamy and cruel inhumanity abound.
Richmond in Tasmania
Come and take a step back in time and engulf yourself in what it was life in the early life of a Tasmanian and visit Australia's most delightful Georgian village 24kms from Hobart. Richmond is on Tasmania's Convict Trail. The village was once a key military post and convict station, between Hobart and the infamous Port Arthur penal settlement it was strategically located. Richmond's convict buildings even predate the Port Arthur Settlement.
Richmond is a genuine village of slate and cobbles, handmade brick and mellow stone, cottages and manors.
Wander streets lined with sandstone buildings that now serve as showplaces for antiques and Tasmanian arts and crafts.
With it's tearooms serving days of past Devonshire teas and all kinds of food delicacies, old fashioned sweets and baked delights.
On the way back from Richmond, detour past the airport to Barilla Bay Oysters for fresh shellfish and there are tours available. Have lunch and taste them at the Barilla restaurant.
Bruny Island in Tasmania
The Island is situated approx. 30km south of Hobart, and is separated from the mainland of Tasmania by the D'Entrecasteaux Channel. Bruny Island actually comprised of 2 parts that being South Bruny and North Bruny which are connected by a narrow strip of land called the 'Neck'. Bruny Island is about 50 km long. Apart from Adventure Bay, the island's other tiny settlements are Lunawanna and Alonnah. Bruny Island has approximately 600 permanent residents and up to 2000 folks can be there in summer.
Bruny Island really is a place of actual unspoilt natural beauty. Its eastern coastline has panoramically spectacular views along with a lenghty stretch of wide sandy beaches. The Bruny Island Surf Classic is held each year in February.
Today Bruny Island has become a popular day trip from Hobart. It is only 37 km via the A6 to Kettering a smallish town on the Tasmanian mainland where the vehicle ferry to Roberts Point on North Bruny departs app. ten times a day, eleven on Friday and eight times on Sundays.
The Island has an number of flora and fauna including wallabies and kangaroos aloong with a large number of species of rare birds.
Bed and Breakfast's - There are 10+ smaller Bed and Breakfast's scattered around along with a few campsites. Sanctuary 87 Main Rd Dennes Point Bruny Island TAS 7150 Telephone: (03) 6260 6260 and Swanhaven Bruny Island Bruny Island TAS 7150 Telephone: (03) 6260 6428 Email: swanonbruny@bigpond.com
Cottages - Cloudy Bay Cabin Cloudy Bay Bruny Island TAS 7150 Telephone: (03) 6293 1171 or The Explorers' Cottages Lighthouse Rd Lunawanna Bruny Island TAS 7150 Telephone: (03) 6293 1271 Email: brunyexp@tassie.net.au
Apartments - are at Inala Country Apt Cloudy Bay Rd Lunawanna Bruny Island TAS 7150 Telephone: (03) 6293 1217 or Whaler¹s Inn Holiday Village Apts Lighthouse Rd Lunawanna Bruny Island TAS 7150 Telephone: (03) 6293 1271
Caravan Parks and Camp Grounds -
On the Tasmanian mainland close by is Snug Beach Cabin and Caravan Park - Holiday Accommodation - Tasmania! Ideally situated close to attractions like Bruny Island and the Huon Valley and only 20 minutes from Hobart! 35 Beach Road Snug - Tasmania 7054 Australia Ph: 03 6267 9138, Fax: 03 6267 9128
Things to do, places to see and visit and attractions on North Bruny and South Bruny in Tasmania are - Adventure Bay Road runs off the Main Road, following the coast past Adventure Bay to East Cove, at the north-eastern end of the South Island. Further along the Adventure Bay Road is another turnoff into Lockleys Road. Follow Lockleys Road then turn into Resolution Road past the signposted start of The Mavista Nature Walk. This easy 30-minute walk that travels through the greened rainforest and ferned glade adjacent the beautiful Water Fall Creek. Adventure Bay Road ends at a carpark at East Cove (information board here) and then along the beach is the start of the coastal track to Grassy Point some 1 1/2 to 2 hours return.
Other Walks that can be taken are at the southern end of the stretch of 'North' Bruny Island being The Cape Queen Elizabeth Walk which is approx. 3-4 hours which leads off the Main Road out towards the coast, then past Big Lagoon, Little Lagoon, coastal heathland settings and relaxing views.
At the south west point of the 'South' Bruny Island to north of Cape Bruny is The Labillardiere Peninsula. Old Jetty Road being to the start of the Luggobine Circuit walk a moderate to medium walk being some 1/1/2 to 2 hours return and then the longer and very tiresome and demanding Labillardiere Peninsula Walk around 7-9 hours to return. This takes in the beaches, scrub lands, heathlands, forests, Mount Bleak, rugged coastline and it's coastal views including that of Partridge Island. The East Cloudy Head Walk a tiresome and weary (actually demanding) 4 hour walk takes in scenic views and it's surrounding heathlands .
Launceston in Tasmania
Launceston is one of Tasmania's three main cities and is the second largest city and is the North of Tasmania. Launceston has a large airport with daily flights connecting with Melbourne and other major Australian cities. The state-managed national park system stretches from Flinder's Island off Tasmania's northern tip to Melaleuca in the far south west and to Rocky Cape on the north west tip.
Whilst in Launceston rejuvenate at the Aquarius Roman Baths, with a full therapeutic Roman bath treatment including the hot waters of the Caldarium and the warm Tepidarium.
Take an day out and visit Cataract Gorge witnessing a wilderness backdrop stage on Launceston's doorstep.
West Coast in Tasmania
Much of the West Coast is unexplored wilderness, with densely treed rainforests, valleys of unusal scrubland, wild white water rivers with pristine and spectacular rapids and ravines. In the highlands of the Lake country where some of the rivers have been harnessed with new lakes created for the huge hydro-electric schemes.
Rosbery - Montezuma Falls in Tasmania
Montezuma Falls - Duration 3 hour return - Grade Easy, level track suitable for all age groups. Follow the signs to Williamsford and Montezuma Falls 2km south of Rosebery on the Murchison Highway (A10An easy walk, through rainforest, along the route of the historic North East Dundas Tramway. At 104m, Montezuma Falls are one of the highest waterfalls in Tasmania and the track takes you right to the base of the falls.
Davenport in Tasmania
Devonport's seafaring connection with the mainland continues now today through the Spirit of Tasmania, the only passenger ferry operating across Bass Strait. Spirit of Tasmania operates between Melbourne and Devonport, sailing from both locations most nights and some days during peak periods. Campervans and motorhomes fares can be seen at http://www.spiritoftasmania.com.au
Devonport with a population of 24,000 is the largest city on Tasmania's north-west coast, is approximately one hours drive from Launceston.
Tiagarra, the Tasmanian Aboriginal Cultural and Arts Centre, has dioramas showing the lifestyle of the Tasmanian Aborigines from the region, and is close to Aboriginal rock carvings. "Tiagarra" means "keep" in the Tasmanian Aboriginal language. The Tasmanian Aboriginal Cultural and Arts Centre is at Mersey Bluff Devonport 7310 or at tiagarra@southcom.com.au
Leaving from Devonport Chocolate lovers shouldn't miss the House of Anvers at Latrobe, with its chocolate factory and museum producing hand-made, Belgian-style chocolate truffles, fudges and pralines.
Ashgrove Farm Cheese specialize in the production of award winning English Country style cheeses using traditional recipes and manufacturing techniques. The cheese is manufactured from milk produced on the farm by the 800 cow dairy herd ensuring the highest quality standards are maintained throughout the process. Ashgrove Cheese is located in picturesque Elizabeth Town, the cheese factory is on the Bass Highway 20 minutes from Devonport and 10 minutes from Deloraine. Visitors can view the cheese making area and sample the range of cheeses available. www.ashgrovecheese.com.au/
The Davenport Hotel - http://www.thedavenporthotel.com/ is a great choice for the first nights stop over.
Cradle Mountain - Lake St Clair National Park in Tasmania
From Hobart drive some 375km east towards Strahan situated on Tasmania's west coast. On the way stop in and take a Gordon River Cruise www.gordonrivercruises.com.au/ (pre booking recommended) which takes you through the narrow and turbulent Hells Gates the entrance to the harbor, past Brown Trout fish farms and on to Sarah Island with it's history of perhaps the most notorious of all penal settlements.
With stretches of lush open countryside, eucalyptus and myrtle forests along with the occasional small quaint and rustic town or homestead. As your driving you will see the mountains looming in the distance. Leaving this landscape it's only about 26 miles from Queenstown to Strahan. Travelling from Strahan to Cradle Mountain being a distance of 155km and the driving time is 1 hour 45 mins by then Hobart is 4 hours via the Midlands highway.
At the Gateway to Cradle Mountain is also Cradle Chalet - http://www.cradlechalet.com.au/. Cradle Chalet features 4.5 star accommodation and dining on the edge of Tasmania's tranquil Cradle Mountain wilderness and is renowned for combining the natural beauty of the area with the intimacy, privacy and personal touch of a boutique luxury lodge
The Cradle Mountain Lodge - http://www.cradlemountainlodge.com.au/ is a unique wilderness retreat on the edge of the World Heritage Listed Cradle Mountain/Lake St. Clair National Park. For guests of Cradle Mountain Lodge, it is not necessary to venture into the National Park to experience the best of Tasmania's wilderness, as The Cradle Mountain Lodge have a host of great walks with spectacular scenery that leave directly from the Lodge grounds. There are over 20 walks to choose from directly around the Lodge http://www.cradlemountainlodge.com.au/. Combine a motorhome hire and a night at Cradle Mountain Lodge for some relaxing indoor pampering. Cradle Mountain Lodge is located 81km from Devonport (1¼ hrs), 110km from Burnie (1½ hrs), 142km from Launceston (2½ hrs) and 375km from Hobart (4½ hrs). Allow additional travelling time during adverse conditions.
Campervan and Motorhome rental is available through www.tasmaniamotorhomes.comt from Launceston (drive time is approx. 2.5 hours) Hobart (approx.4.5 hours) and Devonport (approx. 1 hour and 15 minutes).
If you wish to camp at Cradle Mountain a few suggestions to look at are Cosy Cabins Cradle Mountain which has Powered Caravan Sites and Camp Sites and is situated on the edge of the world renowned Cradle Mountain - Lake St. Clair National Park & World Heritage area.The park has established powered sites for motor campers, small pop tops and caravans. http://www.cosycabins.com.au/. Or The Cradle Mountain Tourist Park Ph (03) 6492 1395 and bookings are essential.
GUIDED WALKS, SELF-GUIDED WALKS AND STROLLS
The area is a "sub alpine" zone and can be cold and snowy at any time of the year. It has only 32 sunny days a year. So choose your dates and clothes well. Despite the dismal weather this place was teeming with wildlife.
When out walking it is recommended that you do not wander off the tracks and that you wear sensible, comfortable shoes or sneakers. You should also take warm clothes and/or wet weather gear, hat, sunscreen and sunglasses with you, as the weather is unpredictable in this alpine region. For environmental and safety reasons, we ask that you stay on formed tracks at all times.
*Denotes that Guided Walks along these tracks are also available - charges apply. Additional information and detailed walking maps are also available from the Cradle Mountain Visitors Centre.
Dove Lake Cicuit Walk - Duration 3 Hours - Grade Easy. This 6km track is one of Tasmania's premier walks. It will take you right around Dove Lake and beneath the towering spires of Cradle Mountain. The track is boardwalked for much of the way. It is located in Cradle Mountain - Lake St Clair National Park. Picnic and toilet facilities nearby.
Cradle Valley Board Walk: Cradle Mountain Visitor Centre to Dove Lake, about 2.75 hours in total. The walk can be divided into three sections; Visitor Centre to Snake Hill (1 hour), Snake Hill to Ronny Creek (45 minutes) and Ronny Creek to Dove Lake visa Lake Lilla (1 hour).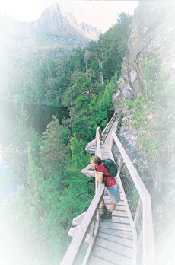 The Enchanted Stroll* -Duration 20 Minutes (1km) -Grade Easy (for ages 0 to 90 plus) -Starts The front of the Main Lodge (circular track) A walk to suit all age groups. For company there's a cascading river, wombat burrows and magical old-growth rainforest. The walk is located in Cradle Mountain - Lake St Clair National Park. Highlights The walk will take you through butongrass moorland before entering cool temperate rainforest along the edges of Pencil Pine Creek. Keep you eyes out for the wombat burrows on the Lodge side of the creek. 1 hour from Sheffield; 1.25 hours from Devonport
King Billy Track* - Duration 40 Minutes (2km) -Grade Easy -Starts To the right of the Main Lodge (circular track)
The Waterfalls Walk (Pencil Pine Falls and Knyvet Falls)* - Duration 30-40 minutes (1.5km) - Grade Easy- Starts Opposite Voyages Cradle Mountain Lodge Boutique.
Speeler Track - Duration 1.5 Hours- Grade Medium -Starts To the right of the Main Lodge (circular track)
Dove Canyon Track - Duration 3 Hours -Grade Hard -Starts Opposite the Cradle Mountain Boutique (circular track).
Waldheim Forest Walk - Often it is said a local guide will recommend the Waldheim Forest Walk a short 15 minute trek through some of the thickest moss and lichen forest that you will ever experience and it's some what mystical. Not trekked by many and I don't know why.
Take a night or 2 out and why not stay at Cradle Mountain Lodge where they have a daily program of guided walks which are recommended either as an introduction to the area or as a guided adventure to some of the more spectacular peaks. All guided tours start at the main Cradle Mountain Lodge and transport into the National Park is provided where applicable. The duration of the walk may range from 20 minutes to 8 hours. Bookings are essential and can be made at Reception. * Not all walks are offered each day. (With courtesy of Cradle Mountain Lodge - http://www.cradlemountainlodge.com.au)
Dove Lake Trek - The Dove Lake trek suggested to start out going to the right – the opposite the recommended direction. Iif you follow the recommended route you will encounter the hardest part the last half hour when you are tired. Going in reverse allows you to walk the hard part when you have the most energy.
Crater Lake Circuit - Duration 3 Hours Grade Moderate. to Medium Suitable for family groups. This track is at a lower altitude than many other tracks in the Cradle Mountain area. It's a better option for days when the higher altitude tracks are being lashed by cold winds and heavy rain.
Cradle Mountain Summit - Duration 8 hours return walk -Grade Difficult. 600m climb; walk includes crossing large rocks. The walk is located in Cradle Mountain - Lake St Clair National Park. The main track to Cradle Mountain summit leaves from Dove Lake and goes via Lake Lilla and Marions Lookout. However, walkers have a choice of several tracks and can choose to walk a different track on their return trip. Time of day, weather conditions and fitness of party should be kept in mind when choosing tracks for the trip. If in doubt, check with staff at the visitor centre. Track starts at 900m and climbs to 1545m. Highland weather conditions can change quickly and frequently.
Pencil Pine Falls and Rainforest Walk - A 20 minute circuit walk around Cradle Mountain Visitor Centre

Huon Valley in Tasmania
The Huon Valley is the region which gave Tasmania its name – "The Apple Isle. The Huon Valley Apple and Heritage Museum should by phoned first to check if it's open on Huon Hwy, Grove (Tel 036 266 4345)
You should also stop off at some of the roadside stores and tables to sample the local produce including it's name sake the delicous apple.
Ross in Tasmania
Ross is located between Hobart and Launceston. Ross is a beautiful colonial heritage town in the heart of Tasmania's world-renowned wool-growing area, which has on many occasions held the world-record price for a bale of superfine Merino wool.
Displays in the Tasmanian Wool Centre's Heritage Museum and Wool Exhibition - www.taswoolcentre.com.au include samples of superfine wool cloth together with other interesting features of a bygone era. Enjoy yourself in the Heritage Museum and Wool Exhibition on your self-guided tour. Then why not look through the quality woollen merchandise on sale there.
Strahan in Tasmania
Set on a quiet bay of Macquarie Harbour, Strahan population of 900 is a picturesque Tasmanian waterfront holiday town and also a working fishing port Strahan is a seafood lovers haven. Strahan is the major harbour town on Tasmania's wild west coast, and a excellent town to go to if you want to explore the wild and beautiful World Heritage Area.
Things to do around Strahan - travel on the West Coast Wilderness Railway. A scenic train journey between Strahan and Queenstown through massive hand cut rock cuttings, stunning rainforests and along the edge of plunginging gorges. Recently awarded national tourism awards this is one of Tasmanias premier tourist attractions.In addition to the stunning scenery, the journey gives visitors a great insight into the Pioneers who built the railway.
From Strahan why not take a leisurely cruise across the 50 kilometre (31 mile) length of the Macquarie Harbour and along the tranquil wide Gordon River. Gordon River Cruises - Esplanade, Strahan - The small fishing community of Strahan on the West Coast is remote and wild, just as you'd expect from a place at the gateway to the Tasmanian Wilderness World Heritage Area. The heart of the village faces the busy waterfront from where the Lady Jane Franklin 11 departs. How could any visit to Tasmania be complete without a cruise on the world-famous Gordon River? The fight to save this natural treasure in the early 1980's attracted international attention and support. It's not hard to understand why. The Macquarie Harbour: more than 110 square miles of natural, protected water surrounding the crumbling history of Sarah Island. www.gordonrivercruises.com.au/
From Strahan you can also board a seaplane to look over the lanscape from above on some of the remaining 1,000-year-old Huon pine and myrtle trees. You can join a tour and kayak the rapids or slow moving rivers and waterways, jet boat along the King River, walk the long openess of the Ocean Beach and sand dunes.
If your driving from Cradle Mountan and continuing west and south towards Strahan, via Zeehan then please note road may be really steep and it somewhat challenging at times.
Strahan Visitor Centre is at The Esplanade, Strahan Tel: (03) 6471 7622 or email at strahan@tasvisinfo.com.au.
Accommodation choices can be found at the website

Bicheno in Tasmania
Drive across the Island to Bicheno through Ross and beautiful bridges of Richmond Bridge and the Ross Bridge. Bicheno a small town with beautiful beaches and penguins agalore. When there maybe stay at the Old Tram Bed and Breakfast located on the bay within walking distance of the penguins and blowhole.
Sign up for the official Penguin Tour at the Bicheno Dive Centre - Ph: 03 6375 1138 which is excellent and informative or Penguin Tours - Ph: 02 6375 1333 There are local nightly tours from the surf centre. We recommend that you sign up as early as possible as they do fill up and are limited in size. However, if you miss out on the tour you can always go down to the "blowhole" and stand quietly as the penguins walk right past you. There's no charge for this but please commonsense prevails by not scaring them, motioning towards them, using a flash camera etc. The penguins can be spotted all along the waterfront after sunset and at times the little ones can make quite a racket with their noise. They seem to nest in all sorts of places under houses is one place.
Bicentennial foreshore walk - from Redbill Beach to the Blowhole is just 3 km one way and allow 2 hours for photo's and rest time.
Blowhole to Farm Point walk - a walk along the Rice Pebble Beach past Muirs Rock towards Farm Point. Then return via the track or Harveys Farm Road. This is approx. 8 km return and allow 3-4 hours for photo's and rest time.
Douglas Apsley National Park - Located north of Bicheno, the park features wonderous carved gorges and spectacular waterfalls. At Apsley Gorge Lookout and Waterhole enjoy the breathtaking views from the viewing platform above the Apsley River. Then with time permitting walk down to the waterhole for a (cold) dip/swim. This is a approx. 30 minute return walk. Now at Apsley Gorge when the weather is kind to you take time to enjoy undistrubed pools and quiet river scenes. Allow 4-5 hours for photo's and rest time to return.
Evercreech forest Reserve - Here are reportedly the world's largest White Gums (Know also as the Eucalypts) situated at Evercreech in the Fingal Valley. Allow 4-5 hours for photo's and rest time to return.
Governor Island Marine - Explore and dive the wonders of the Governor Island Marine reserve and see it's marine life. Governor Island Marine Nature Reserve Rose Garden – The Rose Garden is a mass of broken boulders covered with large sponges, seawhips, zoanthids and jewelled anemones. Dive another site called The Hairy Wall to see fi nger sponges in a spectacular setting. But best of all… because this a marine reserve and a 'no take' area, see big old crays. (Caution only dive with the dive shops - Bicheno Dive Centre - Ph: 03 6375 1138)
East Coast Natureworld on Tasman Hwy (Ph: 03 6375 1311) Relax by their lagoon pool and enjoy the company of the friendly animals roaming around. At Natureworld they host Tassie Devils, wombats and much more.
Freycinet National Park - Only 35 minutes south east of Bicheno, that includes Wineglass Bay.
Freycinet National Park - Only 45 minutes drive away to Swansea on the east coast.

Coles Bay in Tasmania
Coles Bay in Tasmania sits at the foot of the pink granite mountains known as the 'Hazards' and on the edge of the world-renowned Freycinet National Park about a two and 1/2 hours scenic drive from Hobart and Launceston on the east coast of Tasmania. Coles Bay lies between red granite mountains and the sheltered calm waters of 'Great Oyster Bay' on the rugged and yet stunning Freycinet Peninsula. An experience for true seafood lovers is to taste the oysters fresh from the harvest on the Freycinet Oyster Farm tour. Bookings are essential. Coles Bay to Swansea - 59 km around 1 hour, Bicheno - 40 km around 45 minutes, St Helens - 132 km around 2 hours.
Stop by Kate's Berry Farm just 2km south of Swansea just 59 km to Coles Bay- Swansea Visitor Information Centre
Freycinet & The East Coast (Includes Wineglass Bay) in Tasmania
Two hours drive from Launceston is Freycinet along with Wineglass Bay. Where else in Australia can one witness pink granite mountains rising straight from the sea to form a magnificent sheltered waterway or one of the top ten Deserted beaches in the world at Wineglass Bay?
From Hobart to Freycinet then you can considering head up the Midlands Highway and enjoy morning tea at the small township of Ross and look at the remants of the "female factory", a work facility for female convicts. From Campell Town one can take a minor road through Lake Leake onto Freycinet. Lake Leake seem to have the cheapest powered sites seen anywhereat $8 per night.
The park is about 2 1/2 to 3 hours from either Hobart or Launceston. Turn off the Tasman Highway (A3) (which runs down the east coast of Tasmania) taking you alongside beaches and tiny seaside towns onto the Coles Bay Road (C302) 12 km south of Bicheno. (The turnoff to the Friendly Beaches section of the park is via a gravel road about 2 km after leaving the highway). The main park entrance and visitor reception are just after Coles Bay township about 30km from the highway on a good quality sealed road.
Walk along the powder white sand. Wineglass Bay beach was voted one of the "Top 10 Deserted Beaches in the World" by Conde Nast Traveller magazine. http://www.freycinetcolesbay.com/
Freycinet National Park in Tasmania - http://www.parks.tas.gov.au/ - Frecyinet National Park take 1-3 days to relax and explore the Rugged Granite peaks and white sandy beaches of Freycinet National Park. Your time here can be as energetic and relaxing as you want it to be.
Freycinet National Park also has some stunning walks including the 25-minute climb to the viewing platform over Wine Glass Bay, regarded as one of the most beautiful beaches in the world. Feel free to explore the park by foot on any of the 7 great short walks located in the park including the most celebrated 1 to 2 hour return walk to Wineglass Bay Lookout.
Accommodation places in Coles Bay or Freycinet range from luxury accommodation to budget accommodation and wilderness camping.
Freycinet Lodge - is Tasmania's premier environmentally friendly resort having won many awards and recommendations. The property has 60 tastefully furnished cabins situated in a bushland setting, which is located within Freycinet National Park - the home of spectacular Wineglass Bay. Freycinet Lodge is conveniently situated inside the park and is close to the beginning of the walks. Visit http://www.freycinetlodge.com.au/
Pelican Bay Bed & Breakfast is a traditional Bed and Breakfast a waterfront property and it backs onto Pelican Bay, a small inlet on the Swan River just near where it flows into Great Oyster Bay. Set amongst a very tranquil half an acre of maintained well-established l gardens that seem attract many native birds and parrots and their songs. After a day experiencing all the natural beauty of the Freycinet Coast just walk out the thir back gate and try your luck at fishing or stroll along the water's edge to Swanwick Beach for a swim (can be chillie obviously in certain monts). http://www.pelicanbaybedandbreakfast.com.au/
Aspect on Freycinet Bed and Breakfast - is open November to May A beautifully appointed waterfront B&B providing guests with views over Great Oyster Bay to the stunning Hazards Mountains of the Freycinet Peninsula – both enjoyed from your comfortable Queen size bed. Location is 101 Esplanade, Coles Bay 7215. (Turn right after the Coles Bay town sign and continue 900 metres along the Esplanade). Email: mhnjcooke@telstra.com or Tel Nola & Michael Cooke on +61 (0) 407 273 377
Freycinet Bay Apartments - Prestige Self-Contained Apartments Absolute beachfront - ultra-modern minimalist design - exclusive, private, self-contained, 5 star luxury - 2 Bedroom, 2 Bathroom, stunning, new apartments. Phone: 0428 245336 or visit
Iluka Holiday Centre at Freycinet National Park in Coles Bay, Tasmania - offers a full range of accommodation and amenities including a tavern, bakery, and shop. Self-contained units, onsite vans, YHA backpackers hostel, powered & un-powered sites. Visit
Freycinet National Park - Camp Grounds at Richardsons Beach, Honeymoon Bay and Ranger Creek - unpowered sites and powered sites. (Important - Conditions apply - scroll down to the Freycinet National Park section ) as a ballot system operates for the Christmas holiday period or email freycinet@parks.tas.gov.au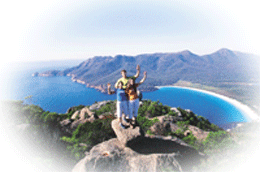 Wineglass Bay Lookout - Freycinet National Park - Grade is Difficult. Steep uphill climb over 1.3km with over 600 rough bush steps and the rigorous uphill walk is not suited to those with health or mobility concerns. The 4km ride or walk (1 to 2 hours return) can be much steeper than one expects and you will have to walk your bike up the bigger hills.The walk into Wineglass Bay starts with a really steep climb so you may decide to take a less-steep but the longer return route back along Hazard Beach. The total circuit/loop is around 11.5 kms. Take 2-3 litres of water per person at least. At the head of the trail ther are toilet facilities at car park. Picnic facilities nearby.
The crystal clear waters and white sandy beach of Wineglass Bay are a tremendous sight. This is a steep uphill walk on a rocky, well-constructed track within the Freycinet National Park.
Wineglas Bay - 2.5 hours return from Wineglass Bay car park inside Freycinet National Park. This walk in the Freycinet National Park follows on from the walk to the Wineglass Bay lookout. Grade - Difficult. Steep uphill climb over 1.3km with over 600 rough bush steps.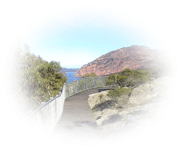 Cape Tourville - 20 minute circuit walk. Grade is Easy - the track is wide, with even surfaces and gently graded slopes. It may suit wheelchair users, who have someone to assist them, and walkers with strollers. The highlight is the lighthouse at Cape Tourville. A boardwalk actually clings below the cliff top. Around half way along the track stone steps commence to proceed up to the lighthouse. The Cape Tourville circuit is one of Tasmania's great short walks.
There are memorial views towards the north along Friendly Beaches across to Butler's Point and then south across to Carp Bay onto Sleepy and Wineglass Bays. Straight out at sea are 'The Nuggets' being the residence to many migrating squaking sea birds. Once inside Freycinet National Park, follow the main road, then turn left onto the Cape Tourville Road. (The 7km Cape Tourville road is unsealed but is suitable for two-wheel drive vehicles.). Toilet, picnic and electric barbecue facilities 7.5km away at Ranger Creek and Honeymoon Bay.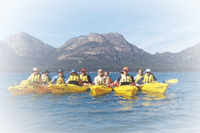 The Freycinet Paddle is the ultimate way to experience Freycinet. Kayaking with local guides and all the equipment is supplied. Freycinet Paddle and Adventures www.freycinetadventures.com.au
Southern right, humpback, pilot and on seldom occassions minke whales visit during the winter months int he area. As with all wild animals sightings never guaranteed, though if you consider climbing to the Wineglass Bay Lookout in the early morning you may be lucky and view whales. Freycinet Coles Bay - http://www.freycinetcolesbay.com
Mt Field National Park in Tasmania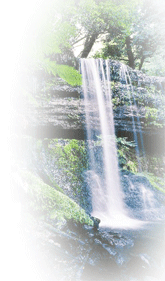 Mt Field National Park - The Mt. Field National Park is approximately an hour's drive past New Norfolk out of Hobart some 80+ klm and 2 hours being a scenic drive minutes drive northwest of Hobart on the Rivers Run route or B61. Close to the Mt Field National Park entrance are three main waterfalls being the Junee Falls, Marriotts Falls, and the most popular and well-known Russell Falls is one of Tasmania's most loved falls (insert).
The park itself is one of the prime habitats for the famous Tasmanian Devil.
Some of the eucalypt trees in the park are 90 metres high, 20 metres around the base and over 400 years old, and . Mount Mawson, west of Lake Dobson, may be known as one of Tasmania's best skifield after Ben Lomond. It is covered with snow for approximately 4 months of each year, and chains will be needed at times.
The park essentially has two visitor sections. The first, near the park entrance, includes picnic facilities and the famous Russell Falls. Enchanting walkng trails through enormous fern forests and some of the tallest trees in the world are available in this area. The second visitor section is centred at Lake Dobson and includes the longer day walks and skiing areas.
For the latest snow reports during the ski season, see . Beautiful mountain scenery and alpine plant sflora species are a feature of the higher parts of the park. Mt Field National Park -http://www.parks.tas.gov.au.
The Visitor Information Centre near the car park and adjacent to the path to Russell Falls
Lyrebird Nature Trail is a walk from the car park at Mt Field National Park. Lyrebird Nature Trail is located some 7klm up the Lake Dobson road and off to the right passing kangaroo ferns, uniquel heath species, yellow gums, ferns and sword grass.
Maydena is 13 km past The Mt. Field National Park and at the beginning of the Gordon River Road a toll road. The highlight is a huge mountain ash 'The Big Tree' which, at a height of 98.2 m, is the largest eucalypt in Australia located in the Styx Valley.
For information on Mt Field National Park treks, hikes, trails and walks, or to register for overnight hikes and/or to talk to the ranger Tel 03 6288 1149). Or drop in to the Mount Field Ranger Station at the entrance to the park during opening times.
Mt Field National Park Camp Ground - Mt Field 66 Lake Dobson Road Tel:+61 (0) 3 6288 1149 (We strongly suugest you phone well in advance). No bookings are taken. Facilities include amenities block, toilets, showers, hot water and basins. Coin operated washing machine & dryer, rotary clothes line. There is one coach site. Shelter with two free electric bbq's and sink with hot water. Caravan access is available.
Also available 3 cabins with 6 bunks per cabin, with vinyl covered mattresses, cold water, wood heater and firewood. No electricity/gas. Communal toilet block (no showers). It is recommended that advance bookings are made. - Mt Field 66 Lake Dobson Road Tel:03 6288 1149 (We strongly suugest you phone well in advance).
Mount Field has one youth hostel. Mt. Field National Park Youth Hostel on Main Road, Mount Field National Park Tel: +61 (0)6288 1369 and thier email is yhatas@yhatas.org.au A rather peaceful area, the YHA hostel has a cosy atmosphere and is just a few hundred metres away from the national park entrance. Some meals and EFTPOS available at hotel opposite the YHA.
National Park Hotel offes basic ground-floor pub accommodation including breakfasts, (the National Park Youth Hostel is opposite) The pub has an EFTPOS facility, but the nearest fuel is 7km further on at Westaway.
Bed and Breakfasts in Tasmania - at Swansea Find peace, warmth and welcome in this grand Georgian Home. Six Queen sized rooms with ensuite. Open Fire, Licensed, meals by arrangement, guest lounge, 60 metres from Schouten Beach.Located 1 Waterloo Rd Swansea Tel +61 (0) 6257 8564.
Terrain in Tasmania
Tasmania is a rather mountainous island with almost half of the State being 600 metres or more above sea level.
Four of Tasmania's highest mountains are located in the Cradle Mountain - Lake St Clair National Park such as Cradle Mountain at 1545m. There are 155 mountains in Tasmania and these are above 1100 meters in height and Mount Wellington overlooking Hobart ranks 76th highest.
Fishing in Tasmania
There are over 3000 lakes, rivers and streams in Tasmania so naturally it is an anglers paradise and regarded as Australia's premier wild trout fishing destination.
Salmon and trout were introduced to Tasmania in 1864 although the salmon failed but the brown trout thrived in the Tasmanian wilderness waterwyas.
A popular fishing lake is Lake Barrington where brown trout, rainbow trout and even black fish abound.
Lake Barrington being some 20 kilometres is located at the base of Forth River Valley which is an an artificial lake that was created by the construction of the 84 metre high Devils Gate Dam on the Forth River for hydro-electric power production in 1969.
Horse Riding in Tasmania
Embrace on Tasmanian country on horsback through the Tasmanian High Country with horse riding through areas where there are bush tracks, quiet roads, horse trails and uncharted bush. Well cared for horses and real Tasmanians to guide you on these rides. Here are just but a few of the choices. Silver Ridge - in Mountain & Lakes District 7 http://www.silverridgeretreat.com.au or at Tel +61 (0) 3 6491 172, Strahan Trail Rides - Strahan or at Tel +61 (0) 3 6471 7426, Tullah Horseback Tours - in the Tullah area at Tel +61 (0) 36473 4289.
The Overland Track in Tasmania
The Overland Track is Tasmania's recognised by many as the most famous walking experience in Tasmania and it is widely recognised as one of the world's great wilderness treks. It stretches along some pristine wildness 80 kilometres over Tasmania's highland country through the Cradle Mountain - Lake St. Clair National Park starting from Cradle Mountain.
The track jpourney's through a various landscapes and ecosystems from mystic rainforests, to spectacular countryside containing rugged mountains outlines, deep forested valleys and alpine moorlands to the button grass plains.
The walk takes from between 6 – 8 days for the fit and agile. There there are very basic huts along the way which provide shelter. Some 4,000 visitors walk either the full length or sections of the Overland Track each year some. This walk has often been described as one of the best wilderness experiences in the world.