Fishing in Tasmania
There are over 3000 lakes, rivers and streams in Tasmania so naturally it is an anglers paradise and regarded as Australia's premier wild trout fishing destination.
Salmon and trout were introduced to Tasmania in 1864 although the salmon failed but the brown trout thrived in the Tasmanian wilderness waterwyas.
A popular fishing lake is Lake Barrington where brown trout, rainbow trout and even black fish abound.
Lake Barrington being some 20 kilometres is located at the base of Forth River Valley which is an an artificial lake that was created by the construction of the 84 metre high Devils Gate Dam on the Forth River for hydro-electric power production in 1969.
Horse Riding in Tasmania
Embrace on Tasmanian country on horsback through the Tasmanian High Country with horse riding through areas where there are bush tracks, quiet roads, horse trails and uncharted bush. Well cared for horses and real Tasmanians to guide you on these rides. Here are just but a few of the choices. Silver Ridge - in Mountain & Lakes District 7 http://www.silverridgeretreat.com.au or at Tel +61 (0) 3 6491 172, Strahan Trail Rides - Strahan or at Tel +61 (0) 3 6471 7426, Tullah Horseback Tours - in the Tullah area at Tel +61 (0) 36473 4289.
Terrain in Tasmania
Tasmania is a rather mountainous island with almost half of the State being 600 metres or more above sea level.
Four of Tasmania's highest mountains are located in the Cradle Mountain - Lake St Clair National Park such as Cradle Mountain at 1545m. There are 155 mountains in Tasmania and these are above 1100 meters in height and Mount Wellington overlooking Hobart ranks 76th highest.
Tasmania Motorhome hire with locations from our different selfdrive rental suppliers such as Hobart, Launceston and Davenport. Just easily compare all our options available in Tasmania for each motorhome size and layout.
Tasmania is an island separated from mainland Australia by the 240 km stretch of Bass Strait with spectacular scenery, a rich heritage and superb food and wine. It's an island made for touring - and the best way to explore is in a comfortable, spacious, self-contained motorhome or campervan from Tasmania Motorhomes. Getting to Tasmania can be by ferry or plane.
Explore the Apple Island as it is also known in a quality Motorhome or Campervan hire rental. We have an itinerary from hobart to Hobart though you can vary from Launceston or Davenport - check here for the Island of Tasmania's distances. Don't be constrained by a time and guide let yourself be the guide and explore explore explore.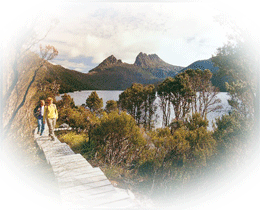 Why be tied down to a daily schedule? In your own travelling home, you can plan your journey as you go. Our motorhomes and campervans are top quality, late model vehicles, superbly maintained and fully equipped with verything you need. Experience the most relaxing, versatile and enjoyable way to discover Tasmania.
Tasmania is a land abundant – a island of wild pristine landscapes; friendly, folks; a pleasant, moderatley seasonal temperate climate; world stand wines and rich cuisine and exquisite produce. With is heritage and colonial history Tasmania boosts a friendly and relaxed island lifestyle for your to experince in your travels around the island. According to travellers in search of excellence, Tasmania has one of the world's 10 best beaches (Wineglass Bay, ), one of the world's best little town (Strahan) one of the world's Sustainable Tourism Initiative. There are so many things to do in Tasmania from fishing, farms, wineries, parks, activities and adventures.
The warmer months are a good choice of time to visit Hobart and tour around Tasmania especially during late summer and autumn. Hobart is choice comencing point for for vacation around the island state of Tasmania. Hire a rental luxury spacious campervan or motorhome with a toilet, shower, airconditioner from Hobart and consider 10 to 14 days to be able to experience the many things to do Tasmania or try our cultural hertiage with our events such as arts, museums and sport in Tasmania and places to go in Tasmania.
When you book luxury or even budget rental camper van, motor home, mobile homes or RV as they are also known hire in Hobart through our Tasmania Motorhomes site, you will receive a dependable slefdribe camper or motorhhome from an reputable, experienced and established supplier who's brand is world renowned and at our best rates and packages.
Tasmania - a wilderness adventure seekers paradise with numerous internationally known heritage listed National Parks. With one third of the State in World Heritage areas, you will find parks and reserves to enjoy accessible wilderness and nature. Tasmania is rich and vibrant with it's unique fauna and flora species - many unique to the island of Tasmania such as the Tasmanian Devil
Because of the well maintained road network, it is easy to see many differing landscapes in a rather short time line. Whether you have allocated a few days or asay two weeks, your touring will be rewarding and memorable.
Around some 20% of Tasmania is classified as a World Heritage area of true outstanding natural and cultural significance. Tasmanians breathe some of the world's cleanest air, drink pure crystral clear water and grow mouth-watering rich and vibrant produce from it's island's fertile soil.
Tasmania's oceans and coastlines are also there for those diving. There are hundreds of diving and snorkelling sites all over Tasmania to suit all diving abilities . To find the right site for you, visit or ask a local dive operator.
www.tasmaniamotorhomes.comt is part of the specialist for selfdrive vehicle hire and rentals and camping and accommodated one day or extended tour and safari broker group of Australia 4 Wheel Drive Rentals and Goholi Pty Ltd group being an experienced respected licensed Travel Agent in Australia (Tel +61 (0) 8 7999 7511). Why come to us and not the supplier direct - We can offer a reasonable discount's off various recommended supplier rates. Simply when we receive a request we recommend the different suppliers of which some you know and some you don't, then we compare the prices, what's included, availabilty limitations, standard or all inclusive quotes and prepare a detailed lenghty quote in a easy to read format detailing all you need to know about the vehicle and how to book. We then book the vehicle with a small deposit to confirm reservation for you and collect full payment of the daily basic rental 45 days prior to travel to fully complete the booking and to save any problems that may arise if you were to try to pay the balance of the daily basic rental at pickup. We then pay the supplier immediatley the following working day so your funds of the required rental monies are in the hands of the supplier. From here you will receive our E-Ticket via email which you confirm back to us then print it and take it to the Britz/CT/Maui/Apollo depot and collect your vehicle on the day of pickup. *All vehicle specifications, contents & layouts are subject to change without notice & may vary due to modifications and/or upgrades. Australia 4 Wheel Drive Rentals cannot be held liable for any such variance.