Cradle Mountain - Lake St Clair National Park in Tasmania
From Hobart drive some 375km east towards Strahan situated on Tasmania's west coast. On the way stop in and take a Gordon River Cruise www.gordonrivercruises.com.au/ (pre booking recommended) which takes you through the narrow and turbulent Hells Gates the entrance to the harbor, past Brown Trout fish farms and on to Sarah Island with it's history of perhaps the most notorious of all penal settlements.
With stretches of lush open countryside, eucalyptus and myrtle forests along with the occasional small quaint and rustic town or homestead. As your driving you will see the mountains looming in the distance. Leaving this landscape it's only about 26 miles from Queenstown to Strahan. Travelling from Strahan to Cradle Mountain being a distance of 155km and the driving time is 1 hour 45 mins by then Hobart is 4 hours via the Midlands highway.
At the Gateway to Cradle Mountain is also Cradle Chalet - http://www.cradlechalet.com.au/. Cradle Chalet features 4.5 star accommodation and dining on the edge of Tasmania's tranquil Cradle Mountain wilderness and is renowned for combining the natural beauty of the area with the intimacy, privacy and personal touch of a boutique luxury lodge
The Cradle Mountain Lodge - http://www.cradlemountainlodge.com.au/ is a unique wilderness retreat on the edge of the World Heritage Listed Cradle Mountain/Lake St. Clair National Park. For guests of Cradle Mountain Lodge, it is not necessary to venture into the National Park to experience the best of Tasmania's wilderness, as The Cradle Mountain Lodge have a host of great walks with spectacular scenery that leave directly from the Lodge grounds. There are over 20 walks to choose from directly around the Lodge http://www.cradlemountainlodge.com.au/. Combine a motorhome hire and a night at Cradle Mountain Lodge for some relaxing indoor pampering. Cradle Mountain Lodge is located 81km from Devonport (1¼ hrs), 110km from Burnie (1½ hrs), 142km from Launceston (2½ hrs) and 375km from Hobart (4½ hrs). Allow additional travelling time during adverse conditions.
Campervan and Motorhome rental is available through www.tasmaniamotorhomes.comt from Launceston (drive time is approx. 2.5 hours) Hobart (approx.4.5 hours) and Devonport (approx. 1 hour and 15 minutes).


If you wish to camp at Cradle Mountain a few suggestions to look at are Cosy Cabins Cradle Mountain which has Powered Caravan Sites and Camp Sites and is situated on the edge of the world renowned Cradle Mountain - Lake St. Clair National Park & World Heritage area.The park has established powered sites for motor campers, small pop tops and caravans. http://www.cosycabins.com.au/. Or The Cradle Mountain Tourist Park Ph (03) 6492 1395 and bookings are essential.


GUIDED WALKS, SELF-GUIDED WALKS AND STROLLS
The area is a "sub alpine" zone and can be cold and snowy at any time of the year. It has only 32 sunny days a year. So choose your dates and clothes well. Despite the dismal weather this place was teeming with wildlife.
When out walking it is recommended that you do not wander off the tracks and that you wear sensible, comfortable shoes or sneakers. You should also take warm clothes and/or wet weather gear, hat, sunscreen and sunglasses with you, as the weather is unpredictable in this alpine region. For environmental and safety reasons, we ask that you stay on formed tracks at all times.
*Denotes that Guided Walks along these tracks are also available - charges apply. Additional information and detailed walking maps are also available from the Cradle Mountain Visitors Centre.
Dove Lake Cicuit Walk - Duration 3 Hours - Grade Easy. This 6km track is one of Tasmania's premier walks. It will take you right around Dove Lake and beneath the towering spires of Cradle Mountain. The track is boardwalked for much of the way. It is located in Cradle Mountain - Lake St Clair National Park. Picnic and toilet facilities nearby.
Cradle Valley Board Walk: Cradle Mountain Visitor Centre to Dove Lake, about 2.75 hours in total. The walk can be divided into three sections; Visitor Centre to Snake Hill (1 hour), Snake Hill to Ronny Creek (45 minutes) and Ronny Creek to Dove Lake visa Lake Lilla (1 hour).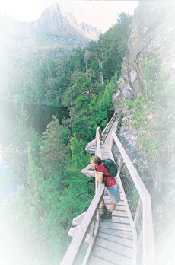 The Enchanted Stroll* -Duration 20 Minutes (1km) -Grade Easy (for ages 0 to 90 plus) -Starts The front of the Main Lodge (circular track) A walk to suit all age groups. For company there's a cascading river, wombat burrows and magical old-growth rainforest. The walk is located in Cradle Mountain - Lake St Clair National Park. Highlights The walk will take you through butongrass moorland before entering cool temperate rainforest along the edges of Pencil Pine Creek. Keep you eyes out for the wombat burrows on the Lodge side of the creek. 1 hour from Sheffield; 1.25 hours from Devonport
King Billy Track* - Duration 40 Minutes (2km) -Grade Easy -Starts To the right of the Main Lodge (circular track)
The Waterfalls Walk (Pencil Pine Falls and Knyvet Falls)* - Duration 30-40 minutes (1.5km) - Grade Easy- Starts Opposite Voyages Cradle Mountain Lodge Boutique.
Speeler Track - Duration 1.5 Hours- Grade Medium -Starts To the right of the Main Lodge (circular track)
Dove Canyon Track - Duration 3 Hours -Grade Hard -Starts Opposite the Cradle Mountain Boutique (circular track).
Waldheim Forest Walk - Often it is said a local guide will recommend the Waldheim Forest Walk a short 15 minute trek through some of the thickest moss and lichen forest that you will ever experience and it's some what mystical. Not trekked by many and I don't know why.
Take a night or 2 out and why not stay at Cradle Mountain Lodge where they have a daily program of guided walks which are recommended either as an introduction to the area or as a guided adventure to some of the more spectacular peaks. All guided tours start at the main Cradle Mountain Lodge and transport into the National Park is provided where applicable. The duration of the walk may range from 20 minutes to 8 hours. Bookings are essential and can be made at Reception. * Not all walks are offered each day. (With courtesy of Cradle Mountain Lodge - http://www.cradlemountainlodge.com.au)
Dove Lake Trek - The Dove Lake trek suggested to start out going to the right – the opposite the recommended direction. Iif you follow the recommended route you will encounter the hardest part the last half hour when you are tired. Going in reverse allows you to walk the hard part when you have the most energy.
Crater Lake Circuit - Duration 3 Hours Grade Moderate. to Medium Suitable for family groups. This track is at a lower altitude than many other tracks in the Cradle Mountain area. It's a better option for days when the higher altitude tracks are being lashed by cold winds and heavy rain.
Cradle Mountain Summit - Duration 8 hours return walk -Grade Difficult. 600m climb; walk includes crossing large rocks. The walk is located in Cradle Mountain - Lake St Clair National Park. The main track to Cradle Mountain summit leaves from Dove Lake and goes via Lake Lilla and Marions Lookout. However, walkers have a choice of several tracks and can choose to walk a different track on their return trip. Time of day, weather conditions and fitness of party should be kept in mind when choosing tracks for the trip. If in doubt, check with staff at the visitor centre. Track starts at 900m and climbs to 1545m. Highland weather conditions can change quickly and frequently.
Pencil Pine Falls and Rainforest Walk - A 20 minute circuit walk around Cradle Mountain Visitor Centre.