Coles Bay in Tasmania
Coles Bay in Tasmania sits at the foot of the pink granite mountains known as the 'Hazards' and on the edge of the world-renowned Freycinet National Park about a two and 1/2 hours scenic drive from Hobart and Launceston on the east coast of Tasmania. Coles Bay lies between red granite mountains and the sheltered calm waters of 'Great Oyster Bay' on the rugged and yet stunning Freycinet Peninsula. An experience for true seafood lovers is to taste the oysters fresh from the harvest on the Freycinet Oyster Farm tour. Bookings are essential. Coles Bay to Swansea - 59 km around 1 hour, Bicheno - 40 km around 45 minutes, St Helens - 132 km around 2 hours.
Stop by Kate's Berry Farm just 2km south of Swansea just 59 km to Coles Bay- Swansea Visitor Information Centre
Freycinet & The East Coast (Includes Wineglass Bay) in Tasmania
Two hours drive from Launceston is Freycinet along with Wineglass Bay. Where else in Australia can one witness pink granite mountains rising straight from the sea to form a magnificent sheltered waterway or one of the top ten Deserted beaches in the world at Wineglass Bay?
From Hobart to Freycinet then you can considering head up the Midlands Highway and enjoy morning tea at the small township of Ross and look at the remants of the "female factory", a work facility for female convicts. From Campell Town one can take a minor road through Lake Leake onto Freycinet. Lake Leake seem to have the cheapest powered sites seen anywhereat $8 per night.
The park is about 2 1/2 to 3 hours from either Hobart or Launceston. Turn off the Tasman Highway (A3) (which runs down the east coast of Tasmania) taking you alongside beaches and tiny seaside towns onto the Coles Bay Road (C302) 12 km south of Bicheno. (The turnoff to the Friendly Beaches section of the park is via a gravel road about 2 km after leaving the highway). The main park entrance and visitor reception are just after Coles Bay township about 30km from the highway on a good quality sealed road.
Walk along the powder white sand. Wineglass Bay beach was voted one of the "Top 10 Deserted Beaches in the World" by Conde Nast Traveller magazine. http://www.freycinetcolesbay.com/m
Freycinet National Park in Tasmania - http://www.parks.tas.gov.au/ - Frecyinet National Park take 1-3 days to relax and explore the Rugged Granite peaks and white sandy beaches of Freycinet National Park. Your time here can be as energetic and relaxing as you want it to be.
Freycinet National Park also has some stunning walks including the 25-minute climb to the viewing platform over Wine Glass Bay, regarded as one of the most beautiful beaches in the world. Feel free to explore the park by foot on any of the 7 great short walks located in the park including the most celebrated 1 to 2 hour return walk to Wineglass Bay Lookout.
Accommodation places in Coles Bay or Freycinet range from luxury accommodation to budget accommodation and wilderness camping.
Freycinet Lodge - is Tasmania's premier environmentally friendly resort having won many awards and recommendations. The property has 60 tastefully furnished cabins situated in a bushland setting, which is located within Freycinet National Park - the home of spectacular Wineglass Bay. Freycinet Lodge is conveniently situated inside the park and is close to the beginning of the walks. Visit http://www.freycinetlodge.com.au/
Pelican Bay Bed & Breakfast is a traditional Bed and Breakfast a waterfront property and it backs onto Pelican Bay, a small inlet on the Swan River just near where it flows into Great Oyster Bay. Set amongst a very tranquil half an acre of maintained well-established l gardens that seem attract many native birds and parrots and their songs. After a day experiencing all the natural beauty of the Freycinet Coast just walk out the thir back gate and try your luck at fishing or stroll along the water's edge to Swanwick Beach for a swim (can be chillie obviously in certain monts). http://www.pelicanbaybedandbreakfast.com.au/
Aspect on Freycinet Bed and Breakfast - is open November to May A beautifully appointed waterfront B&B providing guests with views over Great Oyster Bay to the stunning Hazards Mountains of the Freycinet Peninsula – both enjoyed from your comfortable Queen size bed. Location is 101 Esplanade, Coles Bay 7215. (Turn right after the Coles Bay town sign and continue 900 metres along the Esplanade). Email: mhnjcooke@telstra.com or Tel Nola & Michael Cooke on +61 (0) 407 273 377
Freycinet Bay Apartments - Prestige Self-Contained Apartments Absolute beachfront - ultra-modern minimalist design - exclusive, private, self-contained, 5 star luxury - 2 Bedroom, 2 Bathroom, stunning, new apartments. Phone: 0428 245336 or visit
Iluka Holiday Centre at Freycinet National Park in Coles Bay, Tasmania - offers a full range of accommodation and amenities including a tavern, bakery, and shop. Self-contained units, onsite vans, YHA backpackers hostel, powered & un-powered sites.
Freycinet National Park - Camp Grounds at Richardsons Beach, Honeymoon Bay and Ranger Creek - unpowered sites and powered sites. A ballot system operates for the Christmas holiday period or email freycinet@parks.tas.gov.au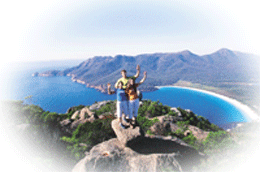 Wineglass Bay Lookout - Freycinet National Park - Grade is Difficult. Steep uphill climb over 1.3km with over 600 rough bush steps and the rigorous uphill walk is not suited to those with health or mobility concerns. The 4km ride or walk (1 to 2 hours return) can be much steeper than one expects and you will have to walk your bike up the bigger hills.The walk into Wineglass Bay starts with a really steep climb so you may decide to take a less-steep but the longer return route back along Hazard Beach. The total circuit/loop is around 11.5 kms. Take 2-3 litres of water per person at least. At the head of the trail ther are toilet facilities at car park. Picnic facilities nearby.
The crystal clear waters and white sandy beach of Wineglass Bay are a tremendous sight. This is a steep uphill walk on a rocky, well-constructed track within the Freycinet National Park.
Wineglas Bay - 2.5 hours return from Wineglass Bay car park inside Freycinet National Park. This walk in the Freycinet National Park follows on from the walk to the Wineglass Bay lookout. Grade - Difficult. Steep uphill climb over 1.3km with over 600 rough bush steps.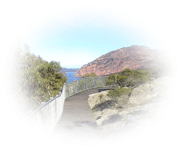 Cape Tourville - 20 minute circuit walk. Grade is Easy - the track is wide, with even surfaces and gently graded slopes. It may suit wheelchair users, who have someone to assist them, and walkers with strollers. The highlight is the lighthouse at Cape Tourville. A boardwalk actually clings below the cliff top. Around half way along the track stone steps commence to proceed up to the lighthouse. The Cape Tourville circuit is one of Tasmania's great short walks.
There are memorial views towards the north along Friendly Beaches across to Butler's Point and then south across to Carp Bay onto Sleepy and Wineglass Bays. Straight out at sea are 'The Nuggets' being the residence to many migrating squaking sea birds. Once inside Freycinet National Park, follow the main road, then turn left onto the Cape Tourville Road. (The 7km Cape Tourville road is unsealed but is suitable for two-wheel drive vehicles.). Toilet, picnic and electric barbecue facilities 7.5km away at Ranger Creek and Honeymoon Bay.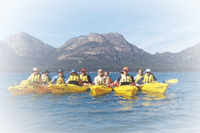 The Freycinet Paddle is the ultimate way to experience Freycinet. Kayaking with local guides and all the equipment is supplied.
Southern right, humpback, pilot and on seldom occassions minke whales visit during the winter months int he area. As with all wild animals sightings never guaranteed, though if you consider climbing to the Wineglass Bay Lookout in the early morning you may be lucky and view whales.